In the May edition of ' The Link' Brian spoke on the subject of prayer in his 'View from number 10 '. He mentioned that prayer was also the focus at Spring Harvest and that Pete Greig was the main speaker at that event. Pete Greig now has a new book out on this topic - the book is called "How to Pray : a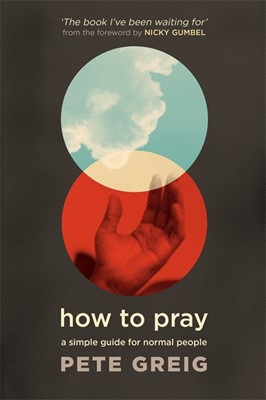 simple guide for normal people". In the introduction to his book Pete Greig says that he has been writing the book for the best part of two decades. The content flows from the wealth of experience he has had in the area of prayer. This book is aimed at anyone who would like to grow and go deeper in their relationship with God, no matter how long they have been a Christian.

We may all know that prayer is important but perhaps we don't always find it easy to pray and sometimes we struggle with how to pray. We are not alone in this. The disciples said to Jesus "Lord, teach us to pray"

(Luke 11:1) and in reply to this request Jesus gave them (and us) the Lord's Prayer. In his book Pete Greig uses the framework given in Lord's Prayer as a guide. He covers many facets of prayer including adoration, petition, intercession, confession and spiritual warfare. He doesn't avoid difficult areas such as unanswered prayer and explores how to deal with disappointment. But.…. that is jumping ahead in the book - early on in the book he begins by looking at the question 'Why pray ?' and sets out the case for prayer in answer to this question. In a chapter on 'Keeping it Simple' he says that some of the best advice he has ever been given on prayer is….. 'keep it simple, keep it real and keep it up.'

He goes on to look at the importance of taking time to pause at the start of a prayer time. Here he shares some practical pointers on how to be still before God ….but he also has some encouraging words and examples for those who do not find it easy to be still ! He continues his journey through the Lord's Prayer using anecdotes and examples along the way.

At the end of each chapter there are details of a 'Hero of Prayer' which illustrates the particular type of prayer studied in the chapter. The heroes come from countries around the world and include well-known names such as Corrie ten Boom, Joni Eareckson Tada and Desmond Tutu but also less well-known people such as Blaise Pascal.

This is a very practical book which is encouraging, challenging and also inspiring. In the foreword Nicky Gumbel says that he has been waiting for someone to write a simple but comprehensive book on how to pray and it has been difficult to find such a book to recommend on Alpha courses. He goes on to praise the book and says that this is the book he has been waiting for.

'How to pray' can be read as a stand-alone book but it can also be used as a companion to 'The Prayer Course' (www.prayercourse.org) which is a free online series of 8 video sessions exploring different aspects of prayer. There is also an online Tool-Shed which is made up of 30 practical prayer tools. These tools are additional practical introductions to topics covered in the book eg how to have a quiet time, how to pray the Psalms, how to pray creatively, how to maintain a prayer list - don't worry we are not going to list all 30 of them !