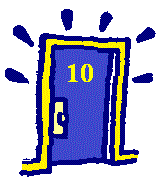 Unprecedented Chaos!
A surgeon, an anaesthetist, an architect and a politician were in a pub arguing about which profession was the oldest. The surgeon said, "Right at the start of God's creation, the Lord took a rib from Adam, so surgery is the oldest profession." The anaesthetist quickly commented "But before that, God put Adam into deep sleep." Then the architect said, "Hey, way before that, God created the heavens and earth from the chaos, so mine is the oldest profession." Then the politician interjected - "Yes, but who created the chaos?"
This has been a crazy few years in our nation's life and many commentators have pointed out that in the long history of our nation there have never been scenes quite like this in Parliament with such hostility even among fellow party members. Some have been thrown out for not backing the Government's stance while others have changed allegiances. John Pienaar made a wise observation the other night on BBC news – he said something along these lines "There is such deep division over Brexit across all parts of British society and it is going to take a very long time for this to heal".
We have all seen it – friends and family deeply divided; political parties torn apart and even churches have been affected as people holding differing views passionately disagree over our involvement in the European Union. I guess you are all wondering what I am about to come out with – and some hackles may already be up!!
This is surely a time for Christians to come together and pray. We must be united not divided – someone quipped that the principle of Galatians 3 needs expanding here - There is neither Jew nor Gentile, neither slave nor free, nor is there male and female, Remainer or Brexiteer - for you are all one in Christ Jesus.
Things have got out of control and deep divisions run through our society and even our congregations. The future of our country is at stake as vitally important decisions have to be made in the coming weeks. Christians must stand together and seek the Lord for the wellbeing for Europe, our land and the wider world. We are not just an Island that can stand alone but part of a global economy. As one of the most influential nations, we also have great responsibly to set and example of good democracy and to take a lead in issues that affect the whole of God's world - like climate change.
So please join in prayer at any and every opportunity. I am part of the Wight Church Team that has set up a prayer gathering on Friday 4th October in Newport and I urge you to come along and join brothers and sisters in prayer for our Island community, our shared mission as one church and for our nation in this critical month.
Paul talks about the ministry of reconciliation in 2 Corinthians 5 – how God was reconciling the world to himself in Christ – and how we the church have been given that ministry in the world. So let's take this seriously and seek a peaceful and positive outcome to all this chaos and to work together constructively so the wounds of the last few years can begin to heal as we move forward into God's future.
If ever a bit of salt and light were needed - it is now!
With love and best wishes,