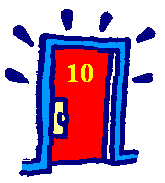 On a mission...
Flowing on from the joy of Easter and the message of new life in Jesus through his glorious resurrection from the dead, we are now exploring in our morning worship how we must take this Good News to others.
It was once said that: "The Church is the only society that exists for the benefit of those who are not its members." (Attributed to both William Temple and G.K. Chesterton). Mission and outreach is what we are all about - it is our raison d'ętre. Jesus came to bring light and hope to all people and then the Spirit was given so that the disciples might be witnesses to the risen Lord Jesus Christ. Now the baton has been passed down to us – along with the same anointing! It is up to us, the church of Jesus Christ today, to share the Good News to our generation. God has no plan B!
So let's take courage and bring this message about the wonderful new life we have found in Christ to others around us. The grace, forgiveness and love of God are things that so many in the community around us so desperately need to discover.
Let's be inspired by how the first believers stood up to the religious authorities of the day and confidently declared that Jesus was the answer to all the questions in life. His Name carried with it authority and power that flowed through the agony of the cross and out of the empty tomb. At Pentecost the promise of the Father was poured out on his people – the Holy Spirit to equip and empower them as his witnesses.
Today nothing has changed. We have the same great name and the same wonderful equipping though the Spirit of the risen Christ living in us who believe. Now we must pass the word on – through our lifestyle, conduct and actions as well as through our words.
People need to see the difference of Christ's love in action. So my prayer is that we will all grow in our discipleship and find fresh confidence in the Gospel – that we might say with St Paul - "I am not ashamed of the gospel, because it is the power of God that brings salvation to everyone who believes." (Romans 1:16).
With my very best wishes as we press on together,