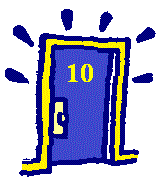 You have not been this way before...
As Joshua prepared God's people to cross the river Jordan, he instructed them to follow the Ark of the Covenant so they would know which way to go - since they "had not been this way before" (Joshua 3:4). The Ark represented God's presence among them so in essence they were being told to keep an eye on the Lord and where he was leading them. Interestingly they also had to keep a social distance from the Ark – 900 metres in fact!
He goes on to say: "Consecrate yourselves, for tomorrow the Lord will do amazing things among you" (3:5). They can't have imagined that God would stop the river in full flood! Today, none of us have walked this path of global pandemic and a public lockdown before. As we begin to emerge from various restrictions, everyone is on edge and wondering what is safe and if we will suffer a second spike if things move too quickly. Over the last three months, many Christians have turned prayer earnestly and we must now continue to seek God's presence and guidance as we moved slowly forwards not quite knowing what is around the next corner.
These are times when we are asked to rely on the advice of scientists and medical experts and our political leaders – but more than anything else, we need to keep out eyes and ears open to the Lord. Let's continue to pray for those who have to make big decisions for people across the UK, and indeed for other nations that are in similarly critical phases, but let's also seek revelation from on high to help us navigate these uncertain times.
The Lord Almighty is with us – the God of Jacob is our refuge – therefore we will not fear! (from Psalm 46).
Can we express such confidence in these testing times? I was reading the other day at the end of Mark 4 where Jesus slept in the back of the boat while the disciples fought with a furious storm on Lake Galilee. They woke him, and when he had rebuked the wind and stilled the waves, he asked them why they were afraid – where was their faith? Can we trust in the Lord utterly and completely in these times that seem to be equally out of control?
We do need faith and we need to keep our focus on the Lord and seek his presence every step of the way – in each small decision we make day by day, week by week – as individuals, as households and as a church family as we try and work out what is appropriate, and when, in terms of life and worship together.
Please do pray for the Elders as we meet together online and pray for wisdom and guidance as we watch the changing landscape and weigh up all the advice that is being circulated. We have certainly not been this way before and it can feel both oddly calm and turbulent at the same time. But we know God is with us, and we know who holds the future: –
"I know the one I have faith in, and I am sure that he can guard until the last day what he has trusted me with." (2 Timothy 1:12 CEV)
With love and best wishes,