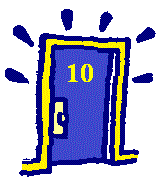 2020 Vision....
There is a lot of talk about vision at the start of 2020, helped by this a familiar term from the ophthalmic world which is used to express normal visual clarity or sharpness of vision measured at a distance of 20 feet. How is our vision after 20 years of the 21st Century?
As we get stuck into this New Year and Decade itís a good time to reassess our priorities and try to see clearly how God is leading us. We are using the URC resource - Local Ministry and Mission Review (LMMR for short) to help us explore together several areas of our life as a congregation. A number of colleagues have shared how fruitful this exercise has been in their local context helping congregations stop and reflect on what they do and why and to assess where the Lord is at work and calling them.
As we pray about this process, what we are seeking is some clarity and sharpness so that we donít just stumble on through 2020 without really engaging with what is on Godís heart for us. Do please join us for the day on Saturday 15 February at the church for a time of seeking God together. We will be helped by Rev Mary Thomas who serves Wessex Synod as Development and Training Officer for the Southern half of the Synod. She was minister at Hayling Island, and before that worked as a training officer with the church in Jamaica.
Many of you will recall that in 2014 we joined in a day looking at Growing Healthy Churches and Mary joined Rev Paul Snell in facilitating that process. Six years have now passed and itís time to look again at our church life and witness and to draw new people into the process so as to bring some fresh insights and perspective. The folks at Ryde are also engaging in this process over the spring period and I will be taking time to do some self-appraisal about my work as minister in the Isle of Wight Group and the wider responsibilities I have. We hope that it will all add up to more effective use of our time and resources as we serve the cause of the Gospel of Jesus Christ..
Do please take some time to reflect on church life and witness and pray about it. Come and share in the prayer times on a Tuesday over the next few weeks as we seek the Lord together. Ask the Lord what he wants us to be focussing on in the coming weeks and months; where should we put the greatest emphasis and the most effort and resources? Come and share your thoughts with us all as we seek to be faithful in our service in this small part of Godís world.
Many thanks to so many of you who work so hard and faithfully in various aspects of our life. It is a big team effort. Thanks also for the generous giving over the years that has enabled us to continue worshipping God in this place and serving our local community in Christís name.
With love and best wishes for the coming season,