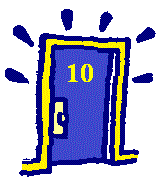 Great Expectations!
As we enter the season of Advent it is a time of great anticipation. Some people may be fed up with Christmas already after all the early adverts and seemingly endless hype - bah humbug!
But we have so much to look forward to. We celebrate the first coming of Jesus as the promised Messiah, or Christ, bringing fresh hope for all peoples. We also look ahead to his promised return; a time when war and hatred will be a thing of the past – and tears and pain will be no more. Scripture tells us that it will be a time of revelation of truth and also of judgement for everybody, so a subject to be taken very seriously over these weeks.
It is a season pregnant with meaning. A child was promised many centuries before – Isaiah wrote, 'to us a child is born – to us a son is given'. This was to be Mighty God himself, the Everlasting Father, the Prince of Peace coming among us (Isaiah 9:6). We believe that those words became true as Jesus was born at Bethlehem. We remember his birth and the amazing events that surrounded it. We reflect also on this wonderful life that was cruelly cut short but which opened up new life for us – that's what Jesus came to bring. It really is Good News of great joy for all people! There is so much to celebrate – worthy of a good party or two!
Jesus was born but through him we ourselves are also offered new birth and enter into a whole new sphere of life in relationship to God. We can become his children - this is the gift of God 'to all who will receive him and believe in his name' – John 1:14.
These are busy weeks for us all but let's not get overwhelmed by worldly pressures and fall into manic mode and so fail to embrace the real reason for the season and the deep joy it brings. I don't have to remind you that we also have the joyful expectation of a General Election – and there is much talk of who can "deliver" Brexit – or even maybe abort it! It seems hard to see any way forward with the deep divisions that exist between, and even within, parties. Perhaps we need a stork to fly over?
Please do take time to pray for our nation at this critical, turbulent time which many say is quite unprecedented. Such seasons call for Christians to cry out to God and intercede for our land and its people. Let's use the Advent season of prayerful preparation to seek the Lord for the sake of our society and also to go deeper in our relationship with God. That is why Jesus came – to open up a whole new way for us all to live under his blessing.
May God richly bless you and those whom you love over these weeks; may it be a time of growing closer to God and to the people he has placed around us. We can expect great things from the one who is the highest and the greatest!!
Janet joins me in sending you our love and best wishes. We are so grateful to God for the fellowship and the support of so many wonderful people who are truly family to us.
In our Saviour's glorious name